Homecare Providers
"Your assistance in finding a second caregiver when we needed two and you always being there to listen or give an encouraging word, cannot be measured."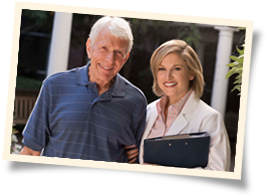 At Visiting Angels STORELOC, we know it isn't easy to make the decision to invite a caregiver into your home to provide homecare. That's why we use a personalized screening system designed to maximize your peace of mind. You'll have the opportunity to interview any caregiver we refer to you. At Visiting Angels STORELOC, we let you choose the caregiver you trust.
Home Care Providers
Visiting Angels STORELOC Home Care Providers are available for elderly family members and loved ones who prefer to remain in the comfort of their own home, despite circumstances that make it difficult for them to do so. The Visiting Angels staff understands that home is where you want to be and as Home Care Providers, we intend to help you stay there as long as possible. We're proud of our reputation as nation's leading, nationally respected network of non-medical, private duty home care providers and our variety of special caring and supportive services: assistance with daily living activities, respite care, and private duty care. All of our Visiting Angel staff are highly trained to provide the best personalized home care service available. Learn more about our home care services and how we can assist your love one by completing the form to the right or by calling (800) 555-1212.