Long Distance Services
In today's world, it is common for extended families and friends to be separated by great distances.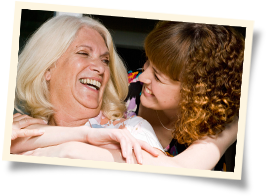 New job opportunities force the adult children of families to move away from home. Often parents retire to resort communities to enjoy the warmer climates creating even greater distances between their loved ones. However, at some point in their lives, your parents, grandparents or a loved one will become unable to properly care for themselves. Suddenly you are faced with the challenge of long distance caregiving.
Visiting Angels is the nation's most trusted name in long distance caregiving and coast to coast care. Every day we assist families separated by distance arrange for compassionate care of their loved ones and peace of mind. With a simple phone call to our National Headquarters, we can put you in contact with a Visiting Angels office local to your loved one.
We understand that this time is stressful for both you and your loved one. Your local Visiting Angels office will meet with your loved one and with our "Select your Caregiver" program arrange to introduce a qualified caregiver. Your local Visiting Angels office can also support you in putting together the other pieces of the long distance caregiving puzzle.