We're Proactive
Your assistance in finding a second caregiver when we needed two and you always being there to listen or give an encouraging word, cannot be measured.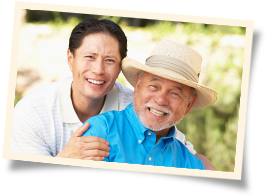 At Visiting Angels STORELOC, we know it isn't easy to make the decision to invite a caregiver into your home to provide homecare. That's why we use a personalized screening system designed to maximize your peace of mind. You'll have the opportunity to interview any caregiver we refer to you. At Visiting Angels STORELOC, we let you choose the caregiver you trust.
We're Proactive to Meet Your Needs
You won't get "lost in the shuffle" with us. Some agencies simply react to calls from clients rather than anticipating your needs in advance. With Visiting Angels STORELOC, we begin by reviewing your needs through discussions with family members and when necessary, with healthcare providers. Service coordinators carefully select the caregiver with the necessary experience and personality that is best suited to the needs of each client. Next, we arrange for the caregiver to visit your home so that you can participate in the selection process. After services begin, we implement our system of ongoing personalized contacts with your family to insure that the care recipient is receiving the best possible care.